Homeopathy Awareness Week 2019
This Homeopathy Awareness Week (April 10-16th) 4Homeopathy is working to raise awareness of the benefits of homeopathy and encouraging people to try it for themselves.
The "Cost of Health" survey
You may have seen media reports of our specially commissioned poll, the "Cost of Health" which explores how much UK adults spend on staying healthy and their attitudes to fitness and wellbeing. You can read the full results here.
#TryHomeopathy
The "Cost of Health" poll shows that 42% of people in the UK would consider using homeopathy. Telling our own homeopathy success stories is a great way to encourage them to do so. Please spread the word this Homeopathy Awareness Week by sharing your experience of homeopathy via social media using the hashtag #TryHomeopathy
Find out more and get involved!
The "Cost of Health" Survey
Read the results and then take part in our own survey to see how you compare
A new survey commissioned by 4Homeopathy especially for Homeopathy Awareness Week 2019 found that the average Brit will spend more than £65,000 over their lifetime just looking after their basic health.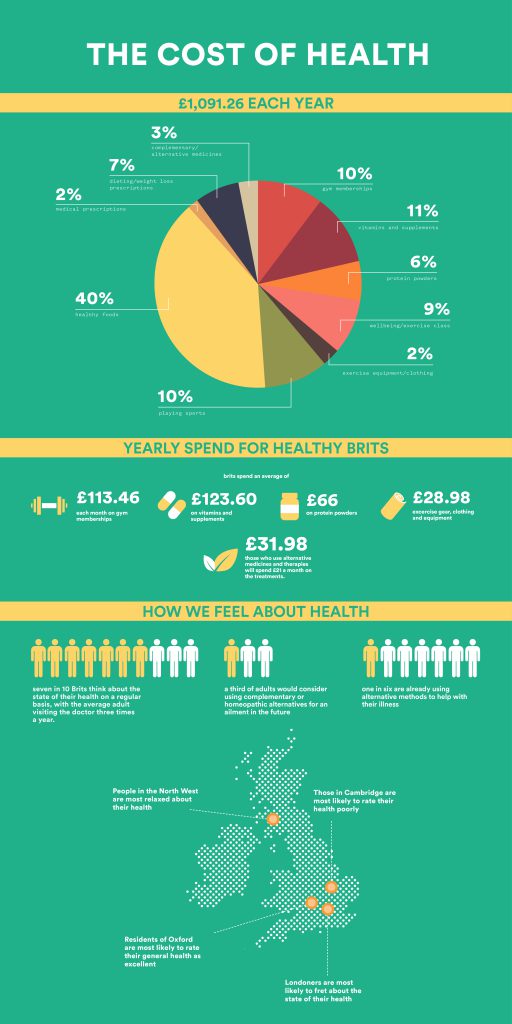 You can download the full results of the 72 point survey.
A poll of 2,000 adults found Brits spend an average of £1,091.26 each year on gym memberships, vitamins and supplements, prescriptions, exercise classes and healthy foods.
And over the course of a 60.3 year average adult lifespan, that adds up to a staggering £65,802.98
The average Brit spends an average of £113.46 each year on gym memberships, another £123.60 on vitamins and supplements, and an extra £66 on protein powders.
They'll also spend £28.98 a year on new exercise gear, clothing and equipment to help with their workouts.
And those who use alternative medicines and therapies will spend £31.98 a year on the treatments.
A spokesperson for 4Homeopathy said: "Looking after your health is one of the most important things you can do.
"There are so many ways you can dedicate funds to improve your health and wellbeing, and we are encouraged by the results of the study which indicate many Brits would be open to alternative therapies in the future.
"We know that many people – with Prince Harry and Meghan Markle being the latest high-profile examples – are already enjoying or exploring the positive health benefits of complementary and alternative medicines."
A third of adults would consider using complementary or homeopathic alternatives for an ailment in the future, and one in six are already using alternative methods to help with their illness.
The survey, conducted by OnePoll.com, also explored attitudes to healthcare and wellness.
Seven in 10 Brits think about the state of their health on a regular basis, with the average adult visiting the doctor three times a year.
Men are more likely to spend money on vitamins, protein powders and exercise supplements to stay healthy, while women prioritise their spend on healthy foods.
And one in 10 have put off visiting their doctor in case it resulted in a costly diagnosis they would struggle to afford.
However, 12 per cent are already currently suffering with a medical condition that causes them significant expense to treat.
But only 14 per cent of adults surveyed in the study currently have a savings account reserved specifically in case of emergency.
Londoners are most likely to fret about the state of their health, while those living in the North West are the most relaxed about their physical wellbeing.
Residents of Oxford are most likely to rate their general health as excellent, while those living in Cambridge are most likely to rate their health poorly.
4Homeopathy's spokesperson added: "A health issue can feel daunting, putting strain on physical, psychological and financial elements.
"This Homeopathy Awareness Week we would encourage Brits to explore other alternative avenues of healthcare especially if traditional routes are causing anxiety or are proving ineffective".
Take part in our own survey to see how you compare