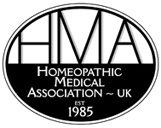 The HMA
The HMA is an association of qualified professional homœopaths. Members of the Register must have passed a qualifying examination at a college approved by the Council and/or proved their competence to practice homœopathy to the satisfaction of the Council.
The Homeopathic Medical Association (HMA) has been registering, regulating and supporting professional homœopaths since 1985. 
Our role is to protect the public, support homœopaths in their endeavour to offer a safe and effective means of improving health and meeting the health needs of the public within the bounds of their competence, and to promote homœopathy. The welfare of the patient is paramount at all times.
All members are bound by a strict Code of Ethics and Practice. This is to ensure that members of the public may have the utmost confidence in consulting our members. Safety, confidentiality and public protection are always at the forefront of all we do. All our members are required to refer their patients to their GP or other health professional where appropriate.
The HM helps to arrange cost-effective insurance for our members. All members are required to be insured; either through the scheme we help in organising or through another provider.
The Homeopathic Medical Association supports our members and the profession as a whole by providing education opportunities, conferences, continuing professional development, a learned journal, and working closely with education providers. We were instrumental in establishing the Homeopathic Course Providers Forum, working on strengthening the educational framework for the high quality training of future homœopaths and the continuing professional development of practising homœopaths. As a member of the European Central Council of Homeopaths, the HMA has played a major role in the development of International educational guidelines for the training of homœopaths.
We continue to work tirelessly to promote homœopathy wherever we can. We represent our members and the profession at large at the highest levels of decision-making both nationally and internationally. We lobby for changes in legislation at national and international level to enable our profession to flourish and serve the health needs of our public. The HMA is an active member of the European Central Council of Homœopaths and the International Council of Homœopaths.
The HMA has several categories of membership: Fellows and Members are qualified homœopaths, student membership for those in training, and associate membership for those that want to support homœopathy. To learn more about becoming a member, click on the link to our web-site or call the office number given below. Click on the facebook symbol to keep up to date with what the HMA is doing.
Checking whether the homœopath you are planning to see has the letters MHMA or FHMA after their name is a reassurance that they are properly trained and regulated and you can rely on their advice.
Contact us on: 01474 560 336
Web-link: info@the-hma.org    


Homeopathic Medical Association , 7 Darnley Road, Gravesend, Kent DA11 0RU